Skip Navigation
Website Accessibility
Get that needle threaded!
What's Going On?

"Sew" Much to do/see and "Sew" Little Time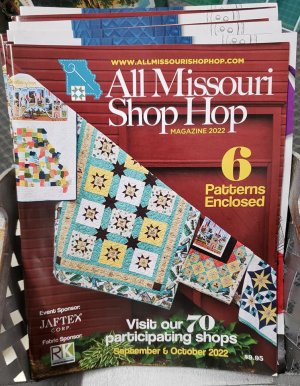 The Alll Missouri Shop Hop started September !st!
And it's going great guns!
We had a very busy weekend and have met new quilters from across the state! We even ordered more fabric since we are running low!
No more panels available so buy them now while we still have them!
And we still have a few magazines left, too!


Machine Embroidery Club
Friday, September 16, 9 AM-4 PM


Intersted in machine embroidery? Join others with the same itert for a day of stitching! $10 to reserve your space.
Here's a note from your hostess, Lisa Kaiser!


FUN and inspiration!! That is the main goal of this machine embroidery group. Any machine type is welcome. I am having so much enjoyment from my embroidery machines. I hope to get a big group loving machine embroidery too! Bring your machine and stitch with us. If you want to listen to a short demonstration, that's great. I know many of you are more advanced than me and want to come for some time to visit and stitch!
We are going to meet at the Elks to take advantage of their projector (that is why there is a $10 fee to help cover the room rental). If anyone is interested in a demonstration or help with Embrillance Essentials software, I will be happy to show a few things about Embrillance. I'm thinking what you need to bring will be your machine, hoop, thread, stabilizer, fabric or item to stitch on and a USB thumb drive to transfer design from computer to your machine. If you have a laptop, please bring it. I can save a design in your machine format and load it to your machine, so don't worry if you don't have or don't want to lug your computer!
Here is a bullet list of what I am comfortable sharing with everyone. I would like your thoughts, wants, needs, to make this a great club for you! Not all of this in one meeting. Just a list to get your thoughts started of what you want to see/learn/do/share!
Overview of Embrillance Essential software (not a must have software but it's the one I will demo)

Demo of placement in the hoop with print out from Embrillance

Discuss stabilizers…..oh so many varieties to use which one on what project!

Stitch a small project, maybe each meeting?! (supplies to be announced and/or White Flower will put together a kit at a minimal cost)

Future projects:

Applique technique

In the hoop item
Again, please think about what you would like to know or want to work on with machine embroidery. I would love input on a project you think would be fun for the group to stitch out together. I have found several really big projects I want to do! And finally, think about where, when and how often we should get together.
Sew Long for Now,
Mary and Cheryl