What's New
A lot! That's what!

THE new book!


Lori Holt's new Farm Girl Vintage 2 is here!
But such high demand only part of our order.


It's a must have so we will be getting and ordering more!
She has great new blocks and quilt setting ideas. Come in or call to reserve one!

And some great new notions!


We've had inquiries about these products and now we have them! Our customers say they are the BEST!
First, Retro Wash, a deterget that is suitable for every day laundry as well as quilts--vintage or new! Safe for all fabrics-cottton, silks, and wool. Washes well by hand or machine.

Next, Retro Clean, the gentle stain remover solution for safely removing tough stains that regular washing alone will not remove. This includes yellow and brown age stains from all washable vintage fabrics (laces, linens, quilts, tablecloths, clothing, wedding dresses, etc.) It removes stains related to water and smoke damage, mold, coffee, wine, blood, nicotine, babies, pets, and perspiration. It will leave your fabric with renewed color and vitality.

Sooo, we decided to try the Retro Clean on a small quilted item we had at the shop that had been stained. It worked but we forgot to get before pics! The directions say you can leave it to soak for up to 48 hours. There are a lot of testimonials on the internet supporting good outcomes. We plan to try our own experiment again! But in the meanwhile you may need this!



Adhesive sprays 505 and 404 are back in stock. Each has different attributes and you will find both handy for multiple craft needs. New--GRIPPY- is here! It is a spray NON-SLIP Coating you will love! We have tried in on the back of a couple of our own rulers and love it! Spray lightly and it dries quickly to create a non-slip transparent coating. We love our Quilters Select rulers but this gives you the option of adding a similar coating to the back of your own rulers. I have a set of acrylic block templates that I am using at home and I plan to use this this weekend on them! And if you change your mind you can wash the coating off! But why would you!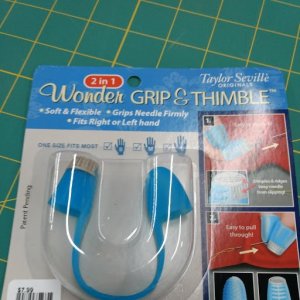 This is the craziest looking thimble ever! But innovative! Slip the actual thimble on whichever finger you normally use and then slip the other end over your thumb. Now you can grip that needle tightly and pull easier than ever!




Sallie Tomato zippers by the yard are here! 3 yards of zipper tape and 9 pulls in a package. The flexible poly zipper looks like metal (rose gold, antique brass, gunmetal, or nickel) and you can cut them to the length you desire. you can sew through the coil to create your own zipper stop. Zipper tape cones in a variety of colors. Great for bags with multiple zippers and gives a custom look!

Sew Long for Now,
Mary and Cheryl